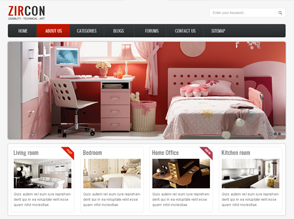 Demo to see how the theme looks in a sample Drupal site
Apply theme
As simple and clean as the theme is, Zircon Drupal 7 & 8 Theme features a clean and soft-styled design with smoothly flowing structure. This multipurpose themes is a good pick for a business, company, or corporate to showcase their products or services on the site or an individual wishing to create a blog, or a personal site for himself/herself.
Despite being published as the first free Drupal 8 theme via Drupal.org, Zircon D8 has been created with great efforts from us. The theme will not let your satisfaction down.
Requirements
Nucleus basetheme is required for Zircon Drupal 7 version.
Features
Documentation included.
Browser compatibility.
Drupal 7, 8 version.
Web Technology (Html5/Css3, Twitter Bootstrap 3.1.1, Font Awesome 4.0.3,…)
Fully responsive.
Megamenu (Zircon Drupal 7).
Slideshow, slider, carousel,… (Zircon Drupal 8, created from views with jssor, and slick).
Recommended modules
For Zircon Drupal 7
Details & Demo
If you need the further information about the themes, and the demo site of Zircon, visit the theme page.
Installation Guide
Zircon comes with supported guides for the both version. Dig into them as a reference source when you try out with the theme.
Contributor
See more WeebPal projects on Drupal.org
Website: www.weebpal.com