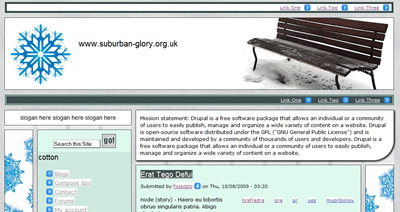 No documentation available
Here's a seasonal theme for all the Drupal droogs out there.
It is based on a 970px grid with 70px column and 10px margins and guttering. It works in all browsers although the design has had to be a little limited in IE6.
It's a fixed width two column design with a baseline of 1.7.
Support for all aspects of the core Drupal install including logo, site slogan, mission statement and footer, breadcrumbs and all types of menus.
Winter Wonderland is divided into the following regions: left, content, footer_top_left, footer_top_right, footer_bottom_left, footer_bottom_middle, footer_bottom_right.
Winter and Christmas imagery are very similar so all you'll need to do is change the logo to something more Yuletide to have your own Xmas theme.
In order to see Winter Wonderland you may need to use the theme switcher on the live demo site linked to below.