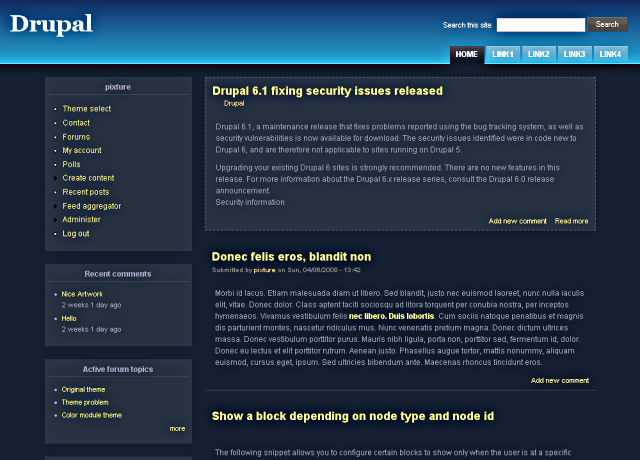 No documentation available
Twilight is an original recolorable theme for Drupal 5.x and 6.x
Key Features
Dark base color with light color text
Recolorable theme (like Garland theme) using color module.
Many original color schemes are prepared.
Supports both 2 column and 3 column layout.
Supports both liquid and fixed width layout. It can be easily switched and configured at the theme setting page.
Five optional silhouette images are included for the header background. They can be switched at the theme setting page.
It is tested with Firefox, IE-7, Opera and Safari.
NOTE:
To change the color scheme or customize colors, you need to use the public file system.
To use custom theme settings with Drupal 5.x, you need to install Theme Settings API module.
http://drupal.org/project/themesettingsapi
About OpenID icon (with Drupal 6.x)
The default OpenID login icon image comes with Drupal 6.x is created for light background color, and it looks funny on a dark background color like this theme. You can download a better OpenID icon image from my web site at
http://en.pixture.com/drupal/themes/twilight
Please read the intrsuction there when you download it.
Customizing style sheet
To change the style.css file, you need to change the color scheme back to the default one first. Then make any changes, test it, and reselect the color scheme of your preference. If you do not follow these steps, your change to the style.css would not be in effect. This is because of the mechanism of Drupal's color module.