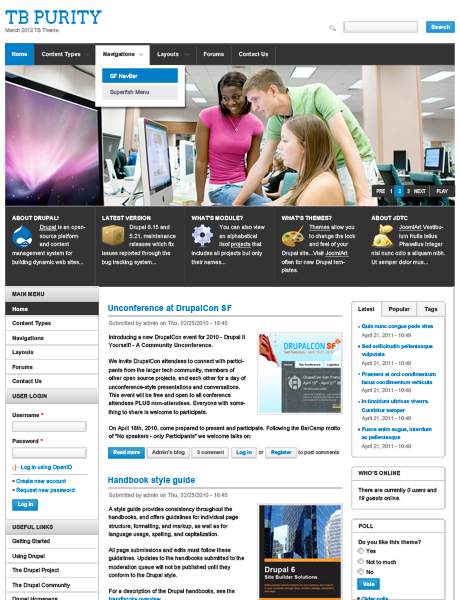 Demo to see how the theme looks in a sample Drupal site
Apply theme
Inspired by the famous JoomlArt Purity - TB Purity features as a sub-theme of Drupal Nucleus. Marked as a solid theme for our Drupal designs, TB Purity inherits the successful designs of Purity template: block design with clean lines, efficient use of space, subtle but varied color schemes, typography and layout.
Explore and see how powerful Nucleus could be.
Learn more about Nucleus - Themebrain.
Features
Flexible column width
Standards-compliant XHTML 1.0 Transitional and CSS
Cross browser compatible on latest versions of IE-7, FireFox, Opera, Chrome, Safari
Supported Modules
Superfish module: drop-down menu & drop-line menu (Only compatible with 1.8 and previous versions)
Quicktabs (Accordion, Quicktabs, UI tabs)
Views Slideshow module (create slideshow with images & titles taken from articles)
Theme Demo page
http://demo.themebrain.com/#purity
Installation Profile available
If you want to build a quick Drupal site which looks exactly like our theme, visit our Drupal themes page and download the installation profile. No registration required!
Requirements