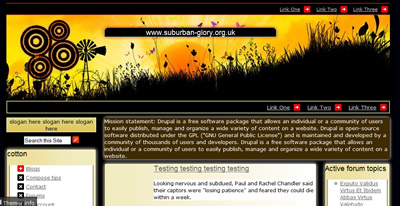 No documentation available
This is the fourth and final instalment of my seasonal tetralogy with the other three being Autumn Almanac, Winter Wonderland and the Spring Theme. I thought I'd concentrate on a sunset for the summer theme.
As before this is a fixed width theme 960px wide. The underlying grid is based on 40px columns, 20px guttering and 10px margins.
The theme can either be two or three columns in the main section or two or three columns in the footer.
It uses the jQuery rounded corners script and a little slice of JavaScript for 24 bit PNGs in IE6.
It works and looks fine in all browsers but is at its best in the more advanced software such as Firefox and Safari.
I changed the layout of the teasers to make them more blog like
In order to see the Sunset theme you may need to use the theme switcher on the live demo site linked to below.