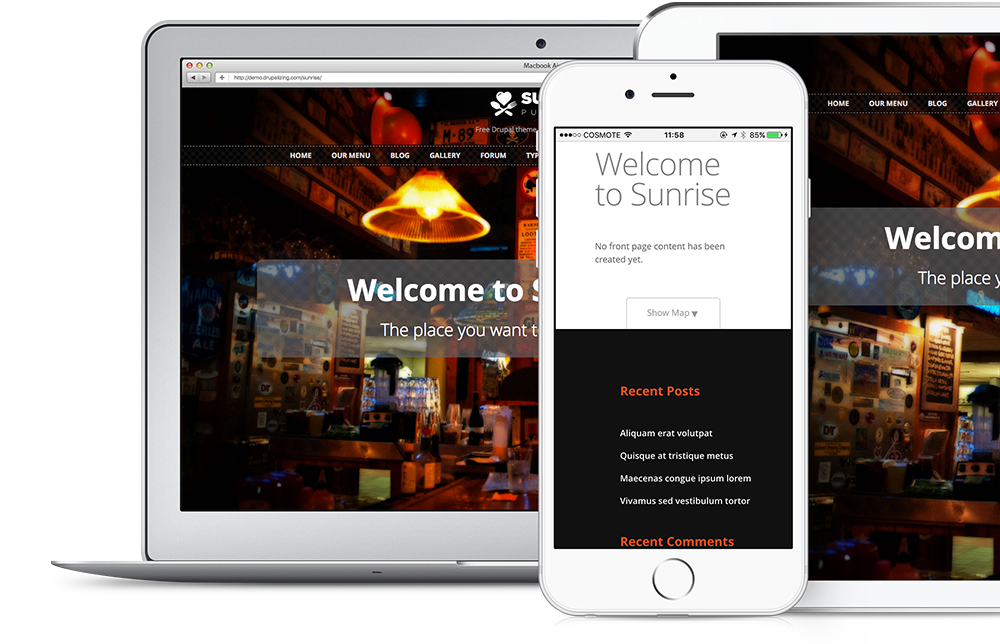 No documentation available
Demo to see how the theme looks in a sample Drupal site
Apply theme
Sunrise is a responsive theme for bars, restaurants, cafés and similar businesses. It is based on the homonymous WP theme by Site 5, and has been ported to Drupal and is supported by More than (just) Themes, as part of our ongoing effort to bring top quality themes to Drupal community.
To stay tuned with new theme releases, updates to existing themes, offers and other goodies follow us on Twitter or like us on Facebook. Check out our blog too.
Features
Responsive Design
HTML5 and CSS3
Simple and clean design
Quite often we receive questions from users regarding how they can reproduce the demo sites of our free Drupal themes.
Reproducing one of these demo sites apart from the theme files, requires some placeholder text, images and a prototype website set up on Drupal. In the majority of cases menus, blocks and various settings are also included.
In light of the above and to better service the community members that contacted us with such questions, we have decided to maintain all our demo sites at GitHub and provide all of the material described above to the community.
Therefore, with the responsive Sunrise Drupal theme we make available the Drupal installation in our official "More than Themes" profile at GitHub.
Free MtT themes: