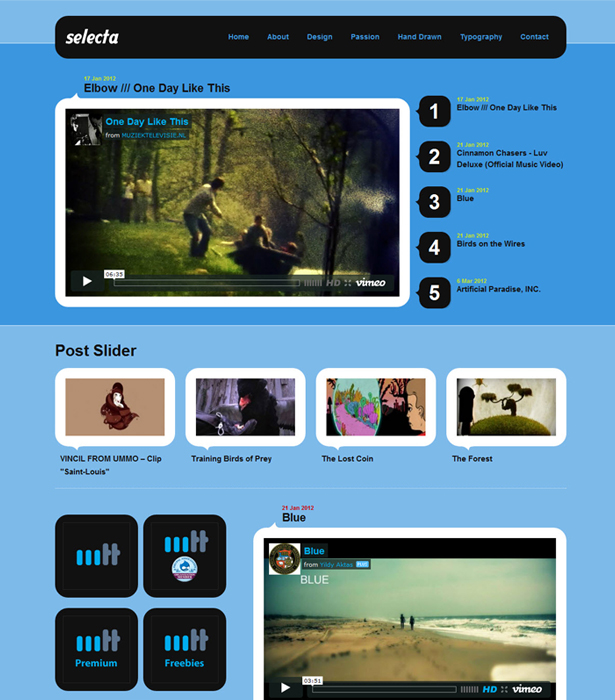 No documentation available
Demo to see how the theme looks in a sample Drupal site
Apply theme
Selecta for Drupal by More than (just) Themes is based on the Selecta theme for Wordpress, which was designed by Obox design.
Selecta has been ported to Drupal and is supported by More than (just) Themes, as part of our ongoing effort to bring quality themes to Drupal.
To stay tuned with new theme releases, updates to existing themes, offers and other goodies follow us on Twitter or like us on Facebook. Check out our blog too.
Features
Ideal for video blogs
2-column layout
Footer with 3 regions
A total of 11 regions
Javascript "Featured Videos" Implementation
Theme setting for disabling the "Featured Videos"

Theme setting for Breadcrumb display

Support for standard theme features: logo, site name, site slogan, user pictures in comments, favicon
Detailed CSS rules for:

Feed Pages
Video Pages
Comment form
Contact form
Comments
User pictures in Comments
Sidebar Ads
"Read more", "Comment" and all other buttons
User profiles
Detailed documentation and a guide on how to reproduce our demo installation.
How to create a Video page (Find out)
How to configure Featured Videos implementation (Find out)
How to separate the hardcoded Featured Videos implementation from page.tpl.php (Find out)
Like this? Have a look at our other free themes too
We at More than Themes will continue to maintain, improve and enrich our free themes with new features as they occur by discussions in the community. Members of our team will be always participating actively and help out in support requests to the maximum extent possible. Nevertheless, sometimes there might be needs related to a theme that go beyond the typical support and knowledge sharing and require either premium support or even implementation-on-request. In all such cases, do not hesitate to get in touch with us :)
Which other theme would you like to see ported to Drupal?
Let us know via drupalizing.com.