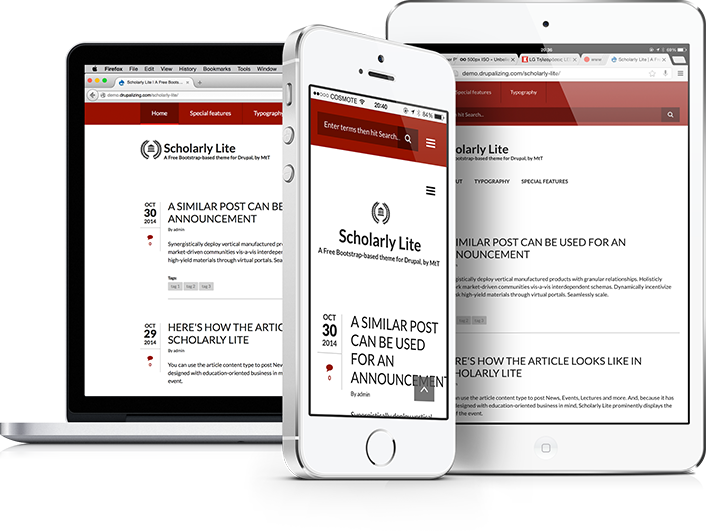 No documentation available
Demo to see how the theme looks in a sample Drupal site
Apply theme
Scholarly Lite is a free Bootstrap based Drupal theme and the core of the popular Premium Scholarly product, which helps you create a great looking education-oriented website.
Scholarly Lite is supported by More than (just) Themes, as part of our ongoing effort to make top quality themes available to the Drupal community.
Stay tuned
To stay tuned with new theme releases, updates to existing themes, offers and other goodies follow us on Twitter or like us on Facebook. Check out our blog too.
Take a look at the Scholarly Lite live demo.
... and it doesn't end with the Drupal theme. You can also get, for free, the source design files in PSD, to help you customise Scholarly Lite according to your needs. Go grab those!
Minimum requirements
All Bootstrap plugins require jQuery and the minimum version is the jQuery 1.9.0+ for Bootstrap >=3.1.1. The preferred method to accomplish this task is to install the jQuery Update module. If using jQuery Update, you should also configure the jQuery Update setting to the appropriate version after it is installed.
Features
Based on Bootstrap 3 framework
1, 2 and 3-column layout support
HTML5 and CSS3
Support for Font Awesome
12 carefully selected, awesome Color Schemes to choose from: Blue, Green, Orange, Red, Pink and Purple each of which in two different versions. Just pick the one that fits your brand with a single click through the theme-settings
Mobile Menu options
Drupal Commerce Ready
Quite often we receive questions from users regarding how they can reproduce the demo sites of the free Drupal themes we feature at drupalizing.com.
Reproducing one of these demo sites apart from the theme files, requires some placeholder text, images and a prototype website set up on Drupal. In the majority of cases menus, blocks and various settings are also included.
In light of the above and to better service the community members that contacted us with such questions, we have decided to maintain all our demo sites at GitHub and provide all of the material described above to the community.
Therefore, with Scholarly Lite Drupal theme we will be making available all Drupal installations of the themes we feature at drupalizing.com in our official "More than Themes" profile at GitHub.
Free MtT themes:
At More than (just) Themes, we will continue to maintain, improve and enrich our free themes with new features as they occur by discussions in the community. Members of our team participate actively and help out in support requests to the maximum extent possible. Nevertheless, sometimes there might be needs related to a theme that go beyond the typical support and knowledge sharing and require either premium support or even implementation-on-request. In all such cases, do not hesitate to get in touch with us :)