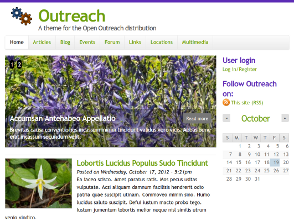 No documentation available
Demo to see how the theme looks in a sample Drupal site
Apply theme
Outreach is an adaptive, CSS-based, multi-column layout, recolorable theme that uses HTML5 and CSS3 and has drop-down menu support via Superfish.
Outreach is an AdaptiveTheme 3.x subtheme that ships with the Open Outreach distribution for nonprofits but can be used on any Drupal site. Via AdaptiveTheme, it fully supports mobile devices using modern responsive design methods - this gives you instant support for the mobile web.
Outreach makes it easy to change things like the sidebar layout, sidebar width, page width and you can have it fluid or fixed width also. Customize the fonts, menus, breadcrumbs, search results, colors and many others aspects of your Drupal site - all with easy to use theme settings.
Features
5 preset color schemes
Custom color options
Configurable layout - lots of options
Mobile support (smartphone, tablet, iPad, iPhone etc)
Font selection
Font size setting
Heading styles
Image position settings
14 regions for placing blocks
Credits: Outreach is maintained and developed by Chocolate Lily. Amazing base theme by AdaptiveThemes. Design originally based on the Skeleton theme, which was ported to Drupal by More Than Themes from an original design by Simple Themes.
AdaptiveTheme Base
Outreach is a subtheme of AdaptiveTheme - you must download and install it first. Be sure to use the 7.x-3.x version. AdaptiveTheme provides the core functionality such as layout control and many other settings.
Sub-theming Outreach
Take the easy route and download Footheme, the quickstart starter theme produced by AdaptiveThemes for their Sky, Corolla and Pixture Reloaded themes. With full instructions and all the hard bits taken care of, Footheme can get you up and sub-theming in no time. View online help about Footheme!
Superfish Module Support
Use the amazing Superfish module for instant drop menus and lots of configuration options. See the AdaptiveThemes tutorial on setting up Superfish menus in AdaptiveTheme sub-themes.