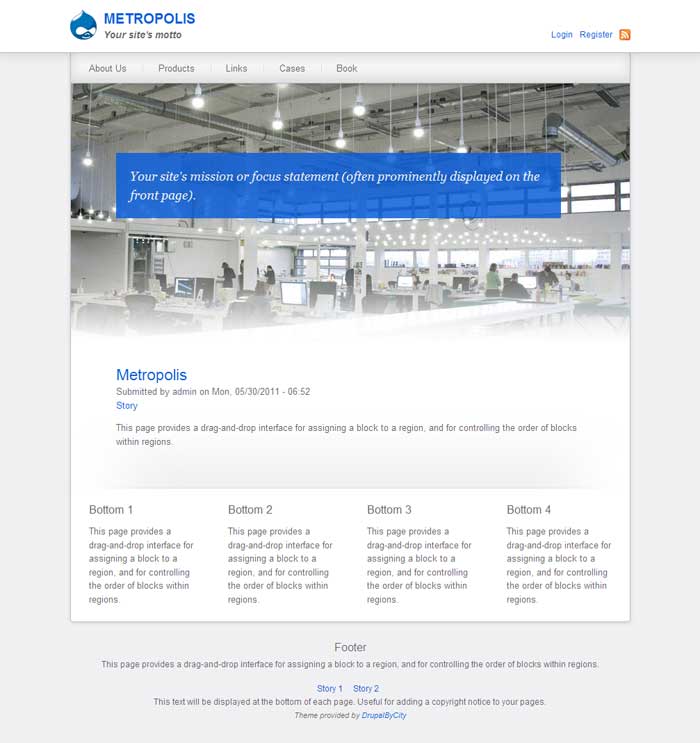 Demo to see how the theme looks in a sample Drupal site
Apply theme
Metropolis is a Drupal theme that gave priority to sense and simplicity. Its suitable for all kinds of websites; from personal site, e-commerce site, to corporate site.
Visit the Demo site.
With the right mix of colors, the theme become very beautiful. Supports all kinds of browsers; from IE6 to modern browsers.
Here are its features:
1, or 2 column layout
Tableless
10 collapsible block regions
Superfish drop-down menu (2, 3 or more nested levels)
Image slideshow. You can change it using Views Slideshow since we provide a region for the slideshow.
User picture in profile, comments and post
Primary links and secondary links
Supports custom logo and favicon
Support features like site name, slogan, mission
Custom login and logout
Heading H1 optimization for SEO
What's new:
Metropolis 6.x-1.3 and 7.x-1.2 released to fix the JS bugs reported here #1219320: IMCE not working
Now the Drupal 6 and Drupal 7 version of the Metropolis theme already very stable, enjoy!
If the Drupal 8.x entering the final release than we will releasing the Metropolis 8.x as well.
Sponsorship
Special presented by DrupalByCity of Comprendo for the Drupal community.