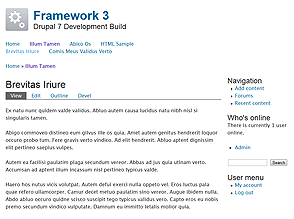 No documentation available
Demo to see how the theme looks in a sample Drupal site
Apply theme
Framework is a blank canvas for theme developers. Use Framework as a user friendly starting point to help facilitate your theme development. Build site themes without feeling like you have to reinvent the wheel or remove unnecessary code every time.
Features
Framework gives general placement and formatting to basic Drupal elements
Supports one, two, and three-column layouts with source ordering
Set to a 12 column grid of 960px
CSS file is highly organized, including a table of contents, section flags, alphabetical properties, etc.
Includes a CSS reset and a list of CSS utility classes
Em based text sizing with vertical rhythm
Clean and simplified code and file structure
Uses HTML 5 structural markup
Framework is not intended to be everything to everyone. It is built with simplicity and ease of modification in mind. Although it is not necessarily intended, Framework can be used as is if you so choose.
D7 Framework 3 Development Build
D6 Framework 3 Development Build
Support Framework
Framework is actively developed and supported on my off time.
If you would like to say thanks, buy me a drink!