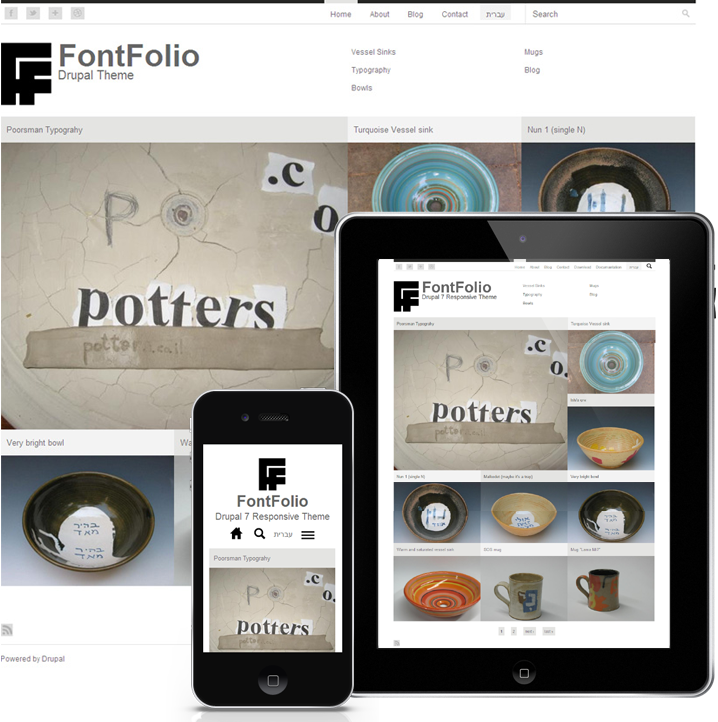 Demo to see how the theme looks in a sample Drupal site
Apply theme
This is a port to Drupal of FontFolio WordPress theme by Marios Lublinski.
FontFolio is a Responsive showcase theme for designers, artists and craft persons. It presents full width/liquid grid layout for front page and categories pages, and 2 column layout for inner pages.
Documantation
Features
Clean, grid based, 2 column theme
Responsive (from version 7.2 )
Easy setup for Multilingual websites:

Links to frontpages in all Enabled languages will displayed at the end of main menu and will get slightly different styles.
Full RTL support

Views support. You can apply FontFolio default grid style, thrugh Views UI, to any view that use "Unformatted list" format.
Theme settings options:

Social networks Icons. Theme settings contain optional URL filed for each of enclosed Icons (Facebook, Twitter, Google+ and Dribble).
Checkbox to Hide or display Page Titles on taxonomy term (category) pages
Drupal 8
Some of the functionality included in D7 version is still under development.
Support
Please use the issue queue for your support requests and questions. Handbook pages don't send notifications about new comment/questions and do not inform participants about new comment or replies. So please don't use the handbook comment section for support requests. Fontfolio's handbook page is good place to comment, add or edit information and knowledge. Unfortunately, unlike the issue queue it is not an efficient tool to receive, or give, direct support.