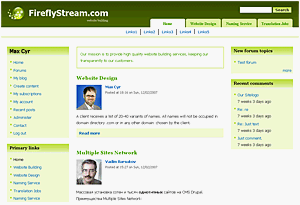 No documentation available
"FireflyStream.com", theme for Drupal 5.x.
This theme was developed by http://www.fireflystream.com/
Based on Garland theme, it has a three-column.
List of features:
Standards-compliant XHTML 1.0 Strict and CSS (No CSS hacks).
Liquid CSS layout (tableless) - the whole layout increases or decreases proportionally as dimensions are specified in ems. Try changing the font size to see this working.
Supports one, two and three columns (Left Sidebar | Content | Right Sidebar).
Cross-browser compatible.
Hope you like it.