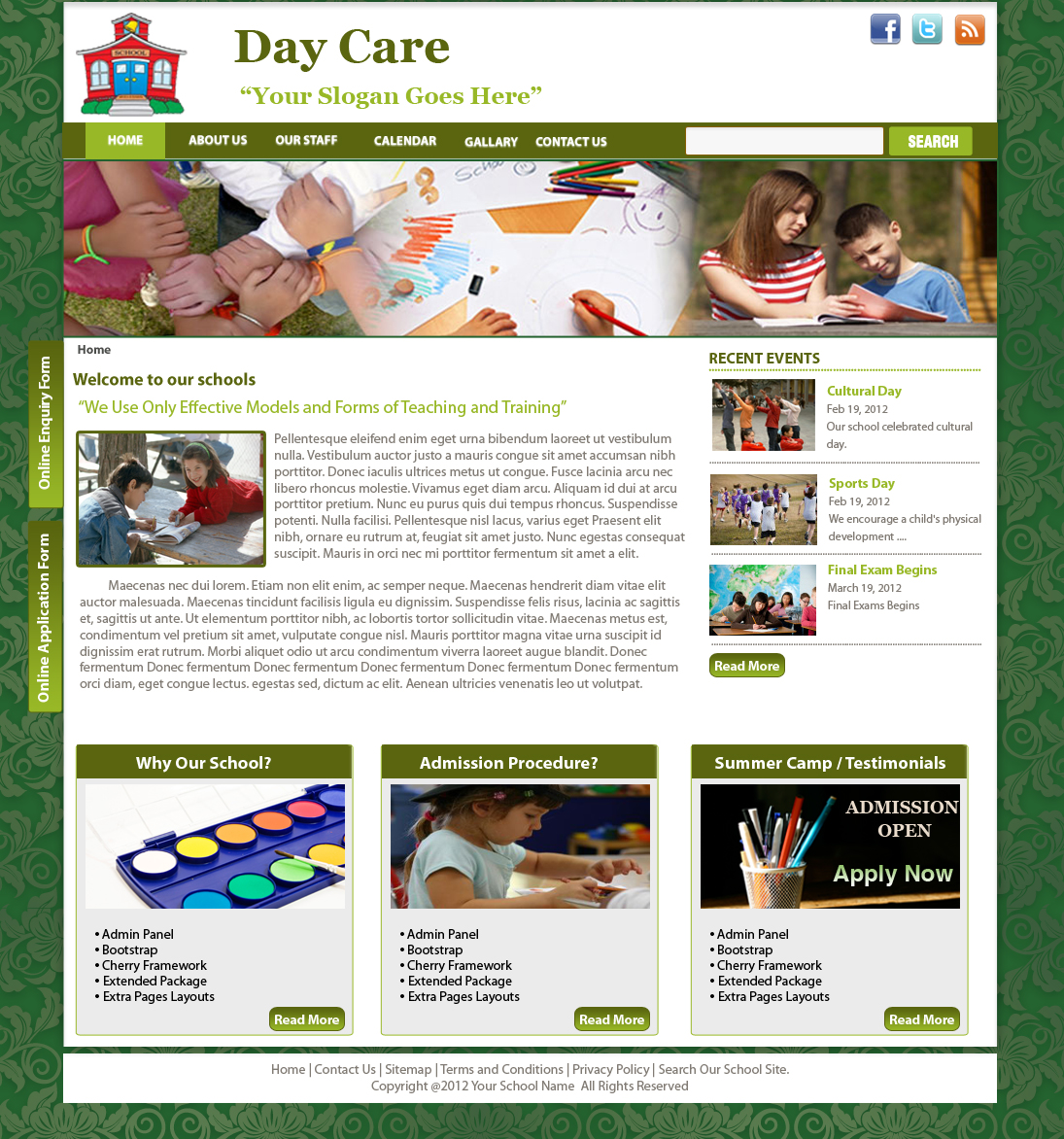 Demo to see how the theme looks in a sample Drupal site
Apply theme
Daycare / Playschool Theme for Drupal is a Professional Responsive Theme for starting your Day care website on Drupal. It is a mobile friendly theme built on clean HTML5 markup and extensible CSS classes and ID's for unlimited theming possibilities. It has content first (top-down) load order for improved SEO.
The header images etc can easily be changed from Theme settings page to use the theme for Business, Corporate or any other purposes or type of website.
Main Features
Mobile Friendly / Responsive out-of-the-box
Multiple Colors (with Color Module Support)
Configurable Header Image
Configurable Background Image
1 column, 2 columns or 3 Columns layout
Clean HTML5 structure with extensible CSS classes and ID's for unlimited theming possibilities
Top-down load order for improved SEO
An adaptive, elegant, SASS based grid system
SASS ready with Bourbon mixin library
Grid Framework provided by Bourbon Neat
Styles for Default Drupal Core modules and blocks
Daycare Theme Showcase
If you are using daycare theme for your website, then please share your website's URL as a comment on this issue so that we can update it on our project page and also advise if you need to make some changes to make it look better.
Also please share if you had any problems installing or configuring the theme and your suggestions for improving it.
Designed & Developed by CityIT Solutions - Drupal Development India
Contact Us for customization to this theme or any other Drupal Module Development or Drupal Theme Development opportunities.