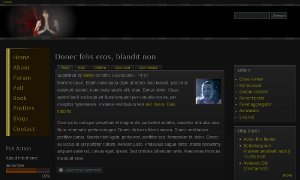 No documentation available
Introduction
A dark design, table-less, CSS driven, 3-coloumn, fixed 1024 size, dark theme that aims music clubs and bands from the wave and metal scene.
Originally written for a Gothic metal club in Munich, now contributed and released to the Drupal Community.
Enjoy!
Features
- Dark drupal theme
- Site Name, Site Slogan, Site Logo, Site Mission
- Admin Theme
- Blog module
- Book module
- Contact module
- Forum module
- Poll module
- custom.css for extensions
- Plain code region for insertion of tracking scripts ie.
- Fixed primary menu at the left side
- Degrades png to gif for ie6 support
About the Developers
This project was created and is maintained by proxiss GmbH, http://www.proxiss.de
Please contact us if you require Drupal programming in Germany.
We love Drupal!