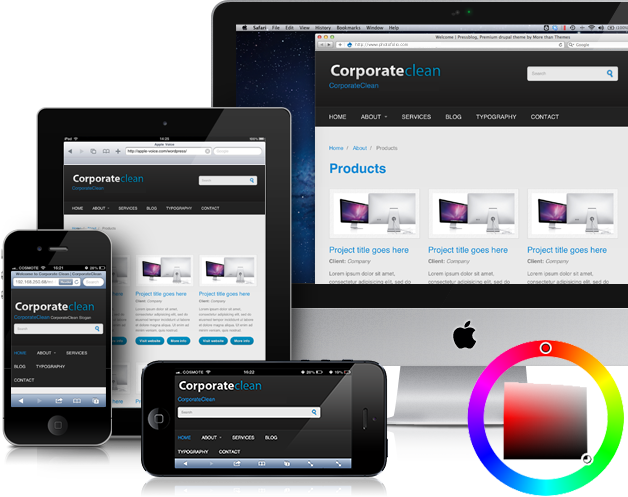 Demo to see how the theme looks in a sample Drupal site
Apply theme
Corporate Clean for Drupal by More than (just) Themes is based on the homonymous PSD template, which was designed and published by Zsolt Kacso.
Corporate Clean theme has been ported to Drupal and is supported by More than (just) Themes, as part of our ongoing effort to bring top quality themes to Drupal community. Corporate Clean theme 7.x-2.x releases come with a responsive grid layout.
To stay tuned with new theme releases, updates to existing themes, offers and other goodies follow us on Twitter or like us on Facebook. Check out our blog too.
Features
(new) Responsive layout (7.x-2.x)
Corporate Clean demo distribution is available at GitHub https://github.com/morethanthemes/corporateclean
Color module integration
Simple and clean design
Drupal standards compliant
(new) 12 Regions: Navigation, Search area, Highlighted, Content, First sidebar, Banner, Footer first, Footer second, Footer third, Footer, Footer bottom right, Help
(new) 1, 2 and 3-column layout support - Read more about columns layout support
(new) Superfish module Support - Learn how to implement Superfish menus
(new) Linked Superfish menu background/colors with core Color module
Multi-level drop-down menus (Multilingual menu support)
Jquery Slideshow based on the jquery cycle plugin:

Fully documented
Theme setting for adjusting the Slide show effect
Theme setting for adjusting the duration of the Slide show effect
(new) Theme setting for randomizing the Slideshow order
(new) Theme setting for adjusting the Slideshow "pause on hover"
(new) Theme setting for preventing Slideshow from wrapping
Full HTML support for each slider item
Slideshow height is automatically adjusted by each slider's content
(new) Slideshow fades in on window load

(new) Webform module ready
Breadcrumb display - Theme setting for Breadcrumb display
Styled links-buttons (with CSS3 gradient background)
Supported standard theme features: logo, site name, site slogan, user pictures in comments, user pictures in nodes, favicon
CSS is organized in order to improve CorporateClean theme customization
Extensive CSS rules for:

'Read more' and Comment buttons
Images into content
Drupal's Contact module form
Comments
Polls
Blogs
User profiles
Blocks
Search block
(new) User login block/User page
(new) Primary Tabs
Quite often we receive questions from users regarding how they can reproduce the demo sites of the free Drupal themes we feature at drupalizing.com.
Reproducing one of these demo sites apart from the theme files, requires some placeholder text, images and a prototype website set up on Drupal. In the majority of cases menus, blocks and various settings are also included.
In light of the above and to better service the community members that contacted us with such questions, we have decided to maintain all our demo sites at GitHub and provide all of the material described above to the community.
Therefore, with Responsive Corporate Clean Drupal theme we will be making available all Drupal installations of the themes we feature at drupalizing.com in our official "More than Themes" profile at GitHub.
Detailed documentation about 7.x-1.x and 7.x-2.x releases and a guide on how to reproduce our demo installation.
Check out also Useful links @Drupal.org: A selection of commonly asked questions by Drupal community members that use Coprorate Clean for their websites. All of them answered and gathered for your ease.
Update
All 7.x-1.x versions are upgradable to 7.x-2.x. However, this should be done with attention and thorough testing before attempted on a production website. The primary reason for this is that, due to the responsive nature of the theme, the custom width and height definitions have been removed from stylesheets.
After updating to Corporate Clean 7.x-1.7 or to Corporate Clean 7.x-2.0 (Responsive layout), you should clear your Drupal's cache through Administer » Site configuration » Performance » Clear cached data, because new regions and theme-settings have been added.
Like this? Have a look at our other free themes too
We at More than Themes will continue to maintain, improve and enrich our free themes with new features as they occur by discussions in the community. Members of our team will be always participating actively and help out in support requests to the maximum extent possible. Nevertheless, sometimes there might be needs related to a theme that go beyond the typical support and knowledge sharing and require either premium support or even implementation-on-request. In all such cases, do not hesitate to get in touch with us :)
Which other theme would you like to see ported to Drupal?
Let us know via drupalizing.com.