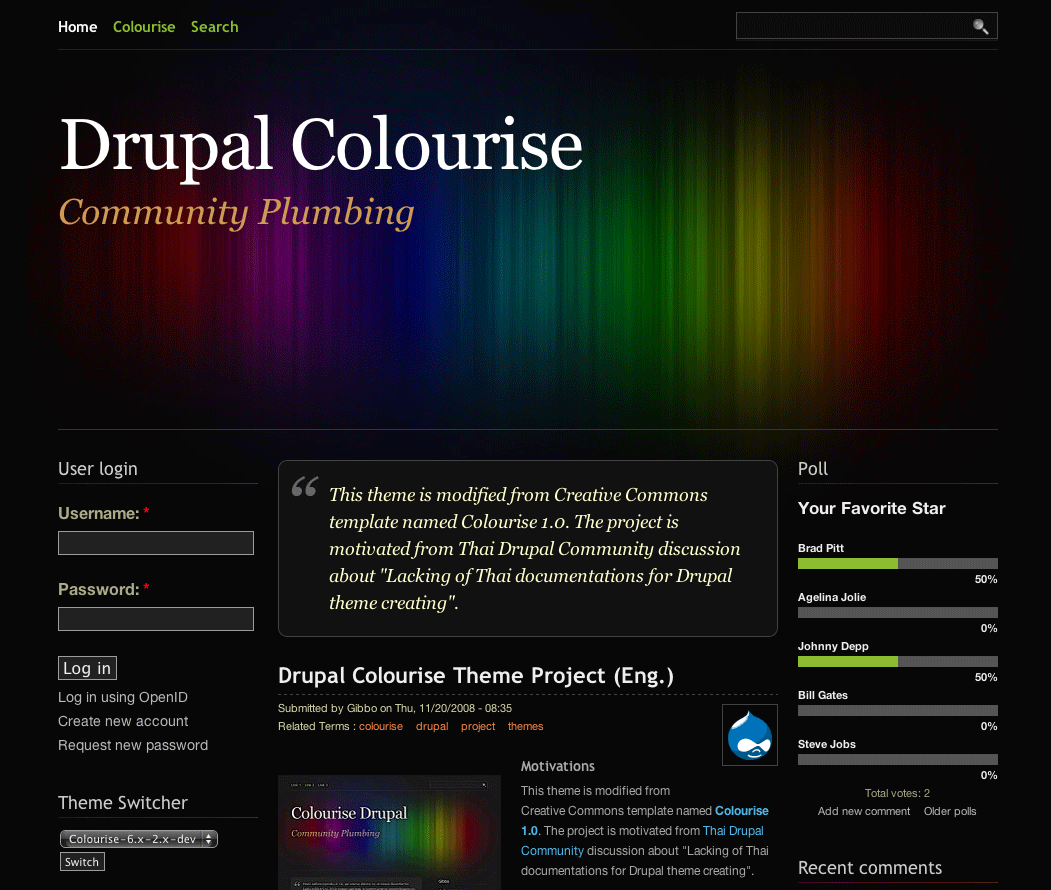 Demo to see how the theme looks in a sample Drupal site
Apply theme
Inspirations
The original design is StyleShout's Colourise 1.0, awesome work from Erwin Aligam. I had modified text color scheme and typography to be more legible and more suitable for both Latin and Thai characters (my native).
Due to the layout had been radical changed for the new release (colourise-6.x-2.x), so I have to remove the 960GS framework from the theme. But I got some new idea for theme layout from Holy Grail Layout and code sample from Drupal Basic theme. If you are a web designer, those stuff I've mentioned above will save your life from the vast time consuming job, like creating Drupal theme.
Branch 7.x-2.x
Branch 7.x-2.x is being worked on at the moment by yashadev for its final release. No new features will be added in 7.x-2.x branch; so it will be a straight port from 6.x to 7x.
7.x-3.x features list
Since the theme was re-written almost from scratch, you have to reinstall the 3.x theme. First of all, if there are any feature requests, please create an issue so I know. Right now, extra regions (menu, header) will be added. As specified above, Holy Grail Layout and code sample from Drupal Basic theme will probably be integrated. It will depend on the features that will be requested.
BE CAREFUL
Please backup your old modified theme files before upgrading to the new version (6.x-2.x). There are so many changes from previous version (6.x-1.3). Anyway, you can add your customized CSS style in "custom.css" (blank file inside the theme) then activate it in the theme settings configuration.
Features
Site name
Site slogan
Mission statement
Top search box
Shortcut icon
Primary Links
User pictures in posts and comment
Accessibility Navigation
Tableless Layout
Top and Bottom content block regions
3 Footer block regions
W3C Valid XHTML 1.0 strict and CSS 2.1
Cross-browser checked (IE6/7, Opera, Safari, and Firefox)
New Features in Colourise-7.x-2.x and 6.x-2.x
Built-in theme settings
1 Left, 1 Right, Both or None sidebars support
6 levels of page width, from 780px, 840px, 960px, 1020px, 1140px and Fluid page width. (inside theme settings)
jQuery Transparent PNG Fix for IE6 and below (inside theme settings)
Add/Remove your own customized CSS stylesheet (inside theme settings)
Add/Remove Breadcrumb (inside theme settings)
Maintenance page included
Print media CSS included
Thai translation for theme settings interface (มีอินเตอร์เฟสภาษาไทยใน theme settings ครับ)
Russian translation for theme settings interface (By ChemAli)
Bi-directional (BiDi) support (need feedback/suggestion from RTL users/developers - Arabic, Farsi, Urdu, Hebrew and more)
New Features in 7.x-3.x (unstable at the moment, but you're free to test it)
Completely rewritten engine
Fluid center
Support for multiple sidebars
In content image styling
Scroll to top jQuery Button
Any further suggestions, requests and new language translations are always welcome.