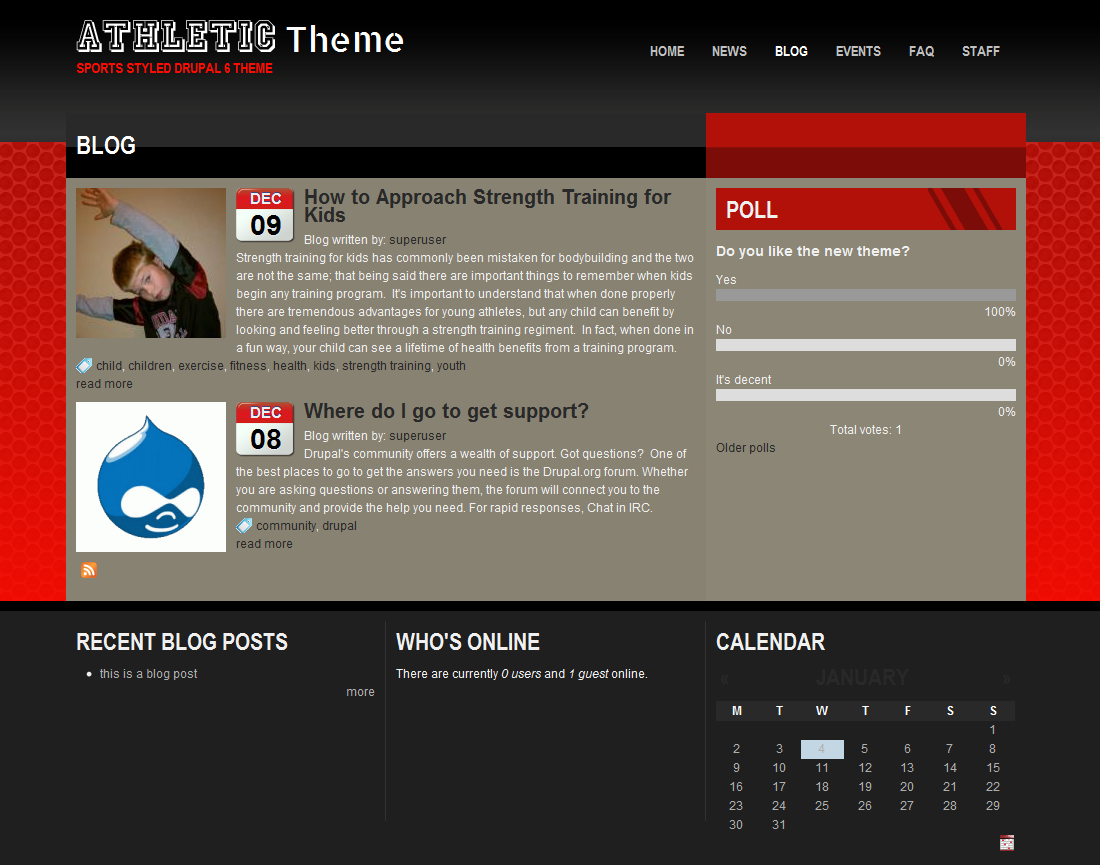 No documentation available
Theme Overview:
Athletic is a sports styled Fusion sub-theme that is not specific to one particular sport like many other sports related themes, and since it's built on Fusion we've also added support for Skinr so you can easily change the look and feel to match the colors of your team.
Theme features include:
Very clean, professional design
2 column layout with both right and left sidebars supported
100% Compatible with OpenEnterprise Drupal Distribution
Tableless design for better SEO
15 collapsible block regions
Optional - Superfish drop-down menu
Built-in Slideshow region
Primary links and secondary links
Supports custom logo and favicon
Support features like site name, slogan
Heading optimization for SEO
Skinr Instructions:
To use all of this themes features, please be sure to sure to use Skinr version 6.x-2.x-dev which is the latest dev version. The Skinr styles have already been added in the css, but you will need to create a new rule to apply them. I recommend that you create a new rule called "Colors"; from there you will be able to assign colors to the designated areas. Please note that you can mix and match colors if you would like to have a 2 or 3 color combination.
Sponsorship

This module is sponsored and developed by LevelTen Interactive. LevelTen is a full service interactive agency focused on building online brands by integrating digital strategy, Drupal development and internet marketing. Feel free to connect with us on Twitter and Facebook
If you would like to learn how to build smarter marketing websites with Drupal, checkout the Drupal Site Success! ebook