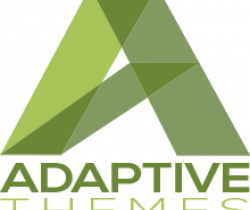 Demo to see how the theme looks in a sample Drupal site
Apply theme
No code - no problem!
Adaptivetheme for Drupal 8 is designed for people who don't code, or for those who only want to write a bit of CSS but still want a sleek and sophisticated theme for todays mobile web.
Features:
Theme generator - create new sub-themes or clone existing ones, requires AT Tools (Theme Generator sub-module is included in AT Tools.
Layout generator - unlimited responsive layout options:

Generate page template suggestions.
Set layout per suggestion, per row (a group of regions), per responsive breakpoint.
Use any breakpoint group - uses cores Breakpoints module.
Set width globally and per row - want one row to be full width, no problem, and great for that hero image or slideshow!

Create new layout regions in seconds with simple edits to a text file (and clear cache, of course).
Breakpoint module support - ships with robust breakpoints for todays mobile touch and desktop devices. Used to setup the layouts, responsive menus and for the hide/show blocks features.
Layout-Plugins included - full support for Display Suite and Panels, all responsive!
Web fonts: Google and Typekit font support - unlimited fonts applied easily to over 20 seperate site elements.
Responsive menus - choose from 8 different menu styles and set the breakpoint, include off-canvas, hamburger slidedown, dropdowns, overlay and more.
Responsive local tasks, responsive pagers, responsive tables, we love responsive design!
Horizontal login block, hide the search button, use placeholders, configure breadcrumbs, hide comment titles, feed icons, and more, it just goes on.
CSS shortcodes- tweak every imaginably element, hundreds of options.
CSS Animations - easy to apply in a few seconds with short-codes - slide, bounce, and fade your heart out.
Slideshows and carousels built in (flexslider) - create unlimited slideshows with reusable settings and simple copy/paste code for blocks, nodes etc.
Image field positioning & captions - set image alignment & captions per content type and per view mode.
Touch icon support for iOS - default set included.
Hide or show blocks in any breakpoint - don't want something in mobile, hide it!
Easily include custom CSS via the front end or in code.
Color module support out of the box - just select it when generating a theme.
Uses FontAwesome, because it's awesome. We replace pretty much every icon from core with FA, and more.
SVG icons (search, rss & forum icons) for fully scalable images that look great at any size, anywhere.
Many JS plugins included - all loaded from the super-fast Cloudflare CDN.
IE8/legacy browser support (off by default), stuck on IE8, no problem, flick a switch and you're there.
Put simply - Adaptivetheme D8 is the power in your hands to create sophisticated modern themes for your website in minutes. It's really that easy.
There is absolutely no requirement to write code or even copy/paste/search/replace to build themes with ATD8, those days are gone (machines do it better), but if you really want to...
Installation
Download and place in the /themes/ directory.
Download the AT Tools module, place in the /modules/ directory and enable both the AT Tools module and AT Theme Generator sub-module.
Goto ~/admin/appearance/at_generate (click Appearance tab, then AT Theme Generator).
Create your new sub-theme.
Goto the List page and enable you new sub-theme.
Please view the documentation for more about using and theming with Adaptivetheme.
ATD8 For Coders
ATD8 is built using modern front end dev tools such as SASS and Grunt. It includes an extensive UIKit built with SASS and uses Susy2 for layout, Compass vertical rhythm and Modular Scale. Browser prefixes are applied using PostCSS. A .csslintrc file is included. Useful task-runners are setup and ready to go in the Gruntfile.
Please refer to the README files in the UIKit - please see this issue regarding the recent change from Ruby Sass to Libsass / Bundler to Bower.
Dependencies
AT Tools module - includes the new AT Theme Generator module for RC2 and onwards.
Documentation
The docs are growing fast - new docs added everyday. Layout, Theme Generation and many other pages now live.
There is documentation on setting up and using D7 Adaptivetheme for themers and site builders available in our documentation section.
To help support our open source projects we offer our Premium Drupal Theme Club. .