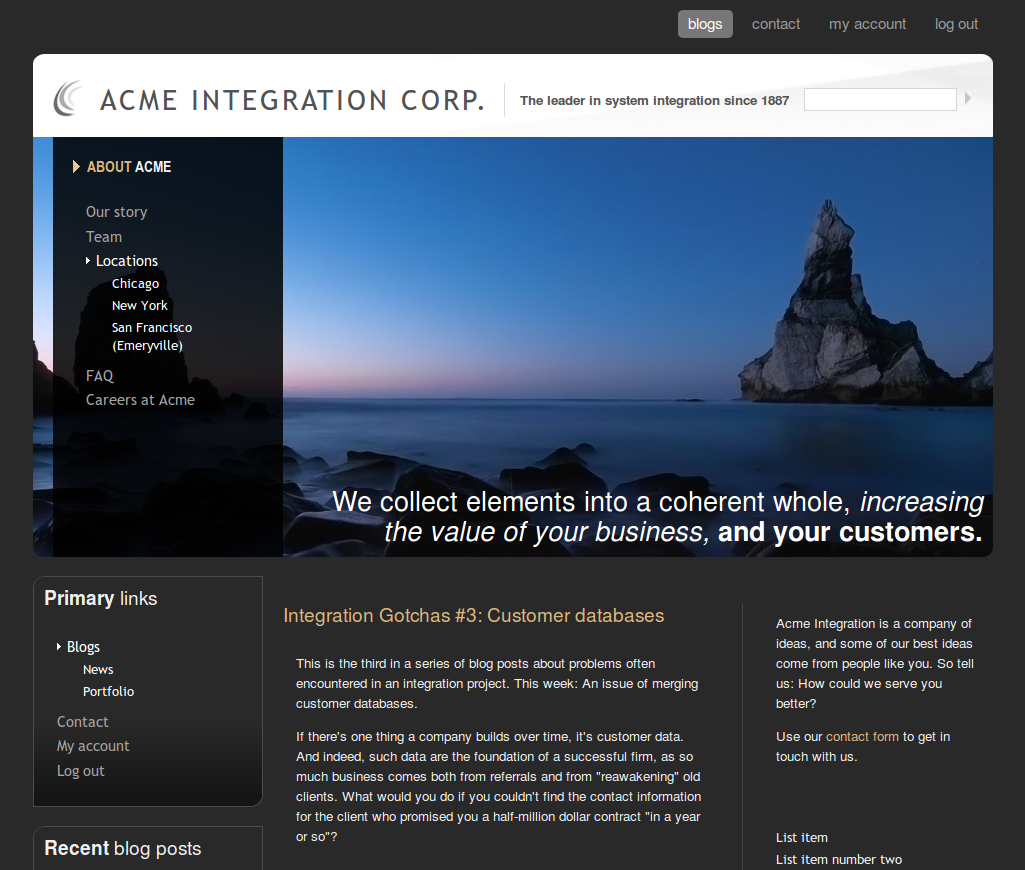 This theme is deprecated. There is an unbranded Drupal 7 port of this theme available here: https://www.drupal.org/project/fusion_slate
Any developments are going to happen on the new version of the theme!
NEW: Port of this theme to the Fusion theme system with tons of new features is up in the 3.x branch! The Fusion base theme and Skinr (2.x dev [installation instructions] if you want to use the photo banner) are required for the 3.x version.
Acquia Slate is an advanced, dark, corporate Drupal theme developed by TopNotchThemes in partnership with Acquia for their commercially-supported Drupal distribution.
Photo featured in initial release has been kindly released under the GPL by Rodrigo.
Features - 2.x
1, 2 (either sidebar), or 3 column layout
14 collapsible block regions
Custom front page layout with block/menu overlay and photo
Additional block regions on inner content pages
Advanced theme settings to customize without coding!
Cross-browser tested in IE6/7/8, Opera, Safari, Chrome, and Firefox
Drop in your own 960x420px or larger photo for a custom look!
Features - 3.x only
All the incredible features of Fusion, including a point-and-click layout, selectable block styles and icons, dropdown menu, fluid width, configurable sidebars, typography settings, and more!
Includes multiple photo banner styles selectable as page styles through Skinr (2.x version of Skinr required for this feature)
Show your support for this theme, get additional help, show off your site, and discuss with other users – join our group!
Acquia Slate 3.x-powered sites
Fusion showcase forum -- post your site here!
#D7CX: I pledge that Acquia Slate will have a full Drupal 7 release on the day that Drupal 7 is released. waiting on a working release of Skinr for D7 but it's coming :)